Featured Shot
"Now that's one big... uh... kayran"
(The Witcher 2 screenshot submitted by olimikrig)
Submit/Discuss/Archives
Featured Poll
How many projects/games have you backed on Kickstarter so far?



• 1

• 2

• 3

• 4

• 5

• 6-10

• 11-15

• 16 or more

• None
Latest Baldur's Gate Enhanced Edition & General News Headlines: » Pre-Thief - Dark Camelot Footage - May 19, 2013, 12:20 am» Bloodlust Shadowhunter - A New ARPG Adventure with Vampires - May 19, 2013, 12:20 am» Raphael Sbarge - AKA Kaidan Alenko Talks Mass Effect 4 - May 19, 2013, 12:20 am» Might & Magic X - Legacy of Shantiri's Ruins - May 18, 2013, 8:30 am» 7 Days to Die - A Voxel-Based Sandbox Game - May 18, 2013, 8:30 am» Wasteland 2 - Interview with Chris Keenan - May 18, 2013, 8:30 am» Obsidian Entertainment - MMORPG Skyforge - May 18, 2013, 8:30 am» Diablo 3 - Diablo Anniversary Specials - May 18, 2013, 8:30 am» Ghost of a Tale - Wallpapers - May 18, 2013, 8:30 am» Shroud of the Avatar - Dev Chat #3 And Tier Changes - May 18, 2013, 8:30 am






Pre-Thief - Dark Camelot Footage
Posted: May 19, 2013, 12:20 am by RPGWatch


Rock Paper Shotgun has an article that shows the original concept behind the Thief series. The former Looking Glass Video Director Josh Randall unearthed a VHS of his unseen work, and uploaded it on Youtube

Thief was previously an RPG set in Camelot, built in the Stargate Engine. You would've played as Mordred, fighting a despotic Arthur. Merlin was a psychopath and the knights hired muscle. Not ridiculous enough? Your goal was to unearth the truth about the Holy Grail.


[Add/Comments: 0] - [View Comments/Permalink] - [Top]

Bloodlust Shadowhunter - A New ARPG Adventure with Vampires
Posted: May 19, 2013, 12:20 am by RPGWatch


Bloodlust Shadowhunter is a Single-Player RPG from WRF Studios. The game is also on Steam Greenlight looking for approval. The developers have a demo on the main site to try. Give the game a look, and give your opinion in the comment section.


There is also a video of the demo from Cramgaming.

[Add/Comments: 0] - [View Comments/Permalink] - [Top]

Raphael Sbarge - AKA Kaidan Alenko Talks Mass Effect 4
Posted: May 19, 2013, 12:20 am by RPGWatch


Puresophistry has an audio interview with Raphael Sbarge better known as the voice of Kaidan Alenko.

It wasn't until Mass Effect 3 when Bioware offered same sex romances options for players that a measure of equality was reached. Sbarge goes into detail as to why this was important not only for the game, but for the industry in general. (Starts at 31:20)

"I was thrilled when they introduced the Homosexual romance options in Mass Effect 3 just because obviously there was a huge audience. I spoke to the developers about it, they said they provided so many different choices we were proud of, to be really honest it was just another piece of extra content that didn't make the final cut in the other games.

What's amazing about the game for people is that you can cross gender! You can play through in any capacity you want, imaginatively for any of us that's a huge factor in the experience. All of the opportunities and complexities are fascinating, and that's what games allow to go down the rabbit hole and explore it.

As far as relationships, the writing is so wonderful. Dealing with issues of rank, emotionality and a sense of separation in Mass Effect 2. As I understand it, more women began play video games as a results of Mass Effect, I think because of these romance elements."

Finally Raphael does make comment on the ending of Mass Effect 3, how he believes fans received it and what lies ahead for Mass Effect 4. (Will he playing Kaidan's Great Great Grandfather?(Starts at 18:10)

"It was done, and people flipped out. What was so interesting about that is Bioware responded, they took it really soulfully to heart and really addressed it. Speaking to the fans and created that other additional content to play through other areas of the game.

Even though on the one hand it was incredibly sad not just for the fans but the people who spent a decade working on this game, but there is something in the fact it's over. That makes it very precious in a way. It almost makes it more special and remarkable, that folks were part of Mass Effect. That elite club of millions.

That's not to say that there isn't sadness but it's being felt by gamers and developers but they said publicly there will be Mass Effect 4."
[Add/Comments: 0] - [View Comments/Permalink] - [Top]

Might & Magic X - Legacy of Shantiri's Ruins
Posted: May 18, 2013, 8:30 am by RPGWatch


Ubisoft's official Might & Magic X: Legacy website has been updated with a profile of Shantiri's Ruins. It's one of the locations you will visit during the game.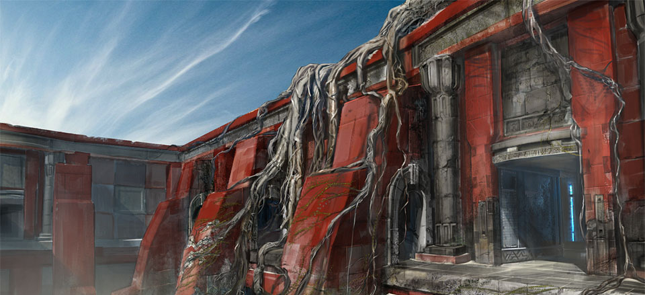 "Centuries ago, a great civilization appeared on the shores of the Jade Ocean: the Shantiri Empire. The Shantiris were a gathering of various Elder Races, mostly Humans, Dwarves, Nagas and Elves. The Shantiris spread across the face of the world, building titanic cities and temples.

Then came the Elder Wars. Angels and Faceless, children of Light and Darkness respectively, consumed their hatred in a genocidal war. In a single night, most inhabitants of the Shantiri Empire vanished and their magnificent cities were cast down.

The Agyn Peninsula harbours many Shantiri ruins, attracting all kinds of treasure-hunters and lore-keepers who hope to unlock their secrets, while ignoring the persistent rumours claiming the ruins are haunted - or worse..."
[Add/Comments: 0] - [View Comments/Permalink] - [Top]

7 Days to Die - A Voxel-Based Sandbox Game
Posted: May 18, 2013, 8:30 am by RPGWatch


Dallas based indie developer The Fun Pimps Entertainment announced 7 Days to Die. I know some will say but it's not a true RPG. Watch the trailer then decide.


An open world, voxel-based, sandbox game blending the best elements of FPS, Survival Horror, RPG and Tower Defense style games. "Seven Days to Die" looks to carve out its own space giving gamers what they really want with a unique combination of combat, crafting, exploration, and character growth. It's not just Survival Horror anymore its "Survival Horde."

Seven Days to Die Core Features include:

• Explore a modern, beautiful, fully destroyable, fully buildable, fully dynamic, hand crafted, huge voxel world with cities, forests, wastelands, deserts, plains and mountains. Explore hundreds of points of interest and every building inside and out!

• Our advanced "Dynamic Block Stability Physics System," simulates real-time structural integrity. Build it right or watch it come crumbling down.

• Relentless enemies will stop at nothing as they claw, jump and break their way through the world in order to get to you. And watch out for the unique severely mutated.

• Mine and loot a multitude of items and ingredients to survive creating hundreds of weapons, items and traps with the intuitive and deep "Crafting System" inspired by classic adventure games but modernized. No wiki required!

• Uncover the truth as you find survivor notes that lead to better loot from the "Dynamic Story Generation System" which puts the player in charge of the story solving the "now what problem" that plague most voxel games.

• Play solo, Co-op online with friends or in our unique "Zombie Nomad Mode" for a no rules experience!

• Enjoy a fully destroyable voxel-based world blowing up everything in the entire game or build it up bolstering the defenses of an existing structure or building your own fort to try and keep the zombies out.

• Gain experience and upgrade your skills in melee, guns, crafting, and stealth!

• Rummage and mine your way through the world finding food, water, loot and the resources you'll need to survive and discover a purpose for everything in the world.

• Build your own worlds and play them with your friends using the 'Creative Mode Tools" featuring hundreds of block shapes and prefabs.
[Add/Comments: 0] - [View Comments/Permalink] - [Top]

Wasteland 2 - Interview with Chris Keenan
Posted: May 18, 2013, 8:30 am by RPGWatch


GamingBolt has an interview with Development Director Chris Keenan of inXile Entertainment about Wasteland 2, and various other topics.

Ravi Sinha: With Obsidian Entertainment, Fallout 1 & 2 composer Mark Morgan, Planescape: Torment writer/designer Colin McComb and of course, the producer of the first game, Wasteland 2 is certainly brimming with industry and RPG legends. How was such a team assembled for the project?

Chris Keenan: Everything about the way we've planned, financed and built this project is different from the way we've worked over the past 10-15 years. We have our core implementation team that has worked together for a while and just thought, "If we can have anyone we want for this title, how would we do it?".

Brian immediately reached out to many members from the original team for design help. Being that we are not working with a publisher it, we could make decisions that would have been sticky to figure out, like bringing on Chris Avellone. Being that he's CCO of Obsidian, it would potentially scare publishers due to him knowing "trade secrets" about the game, but Brian has worked with the Obsidian guys for many years and knows he can trust them. We've developed a very close relationship with Obsidian and will continue to scratch each others backs.

Ravi Sinha: We've seen this post-apocalyptic set-up culminate in either finding a MacGuffin to save the world and usher in a new age of man or in exploring the so-called wasteland and making one's own choices a la Fallout. Will Wasteland be in either direction, a mix of both or completely out of left field with its plot?

Chris Keenan: Well, being that Wasteland was the original Fallout, Brian and his team decided to keep a moderately similar high-level story feel. Neither were about saving all of humanity and bringing pixie-dust and smiles to all. Wasteland was all about the moments you came across while trying to bring about a bit of order and navigate issues as they came up.

The setting is pretty bleak and there really is no way to "save the world" even if you wanted to. The citizens of the Wasteland have literally had a trial by fire and after a hundred years of being in pure survival mode, they don't necessarily operate on logic that we'd hold true in our current world.

Ravi Sinha: In regards to its design, was there always that desire to make Wasteland 2 a throwback to the classic RPGs of yore?

Chris Keenan: We went through a bunch of design ideas when thinking about what Wasteland 2 would be, but many of the elements that stuck kept that familiar feel from games of the past. As we continued to communicate the vision to our community prior to the Kickstarter release, we kept hearing how much people missed that classic play experience and knew it was the right decision for the game.

At the time, I think there was a feeling over the game development community that many game systems evolved out of necessity to a more mass market friendly approach. Publishers weren't funding deals unless your game could sell a million units and that generally tends to remove the option of more hardcore game systems from the designs. Our approach is that we don't care about the mass market. Our 65,000+ backers want a more deep detail and stat oriented game.
[Add/Comments: 0] - [View Comments/Permalink] - [Top]

Obsidian Entertainment - MMORPG Skyforge
Posted: May 18, 2013, 8:30 am by RPGWatch


According to gamesindustry.biz Obsidian Entertainment will be working with the Allods Team to develop a PC MMORPG called Skyforge.


Obsidian's CEO Feargus Urquhart had this to say about the project.

"Skyforge is very interesting and promising project and I am glad that Obsidian Entertainment is involved in working on this game. I am confident that the cooperation with the Allods Team will be a great experience for all of us."
[Add/Comments: 0] - [View Comments/Permalink] - [Top]

Diablo 3 - Diablo Anniversary Specials
Posted: May 18, 2013, 8:30 am by RPGWatch


Blizzard has two special promotions going on right now. The first one is for the one year anniversary of Diablo 3 by offering a 33% discount.

To celebrate an action-packed year of demon slaying, we're kicking off Diablo III's first birthday with BIG savings. For a limited time, you can save $20 when you get Diablo III for the PC/Mac in the Blizzard Online store. That's 33% off the usual price, enabling you or a friend to adventure in the world of Sanctuary easier than ever before.
The other one is to celebrate the 15th anniversary for the whole series with a soundtrack available on itunes.

The development team at Blizzard continues to celebrate the 15-year anniversary since the launch of the first Diablo video game by offering fans a chance to listen to the soundtrack and download it for free through iTunes.

The official page offers notes from the composers who worked on the music of Diablo and there are also classical music themes to sample.


[Add/Comments: 0] - [View Comments/Permalink] - [Top]

Ghost of a Tale - Wallpapers
Posted: May 18, 2013, 8:30 am by RPGWatch


There are still 3 days to go in order to reach the required additional 4.5 KEuro for Ghost of a Tale to get funded. With a bit of help that should be possible.
In the meantime there are some wallpapers of the game you can enjoy.

[Add/Comments: 0] - [View Comments/Permalink] - [Top]

Shroud of the Avatar - Dev Chat #3 And Tier Changes
Posted: May 18, 2013, 8:30 am by RPGWatch


Shroud of the Avatar has a few posted updates on their website. The first update is the Dev Chat video. The second update deals with their changes, and reminds everyone the grace period ends May 20.



[Add/Comments: 0] - [View Comments/Permalink] - [Top]

Torment: Tides of Numenera - Colin McComb Interview
Posted: May 17, 2013, 8:30 pm by RPGWatch


Gamefront interviewed Colin McComb on Torment: Tides of Numenera and the Kickstarter.

Given Torment: Tides of Numenera's pedigree - it's the spiritual successor to Planescape: Torment - it's not difficult to understand just why so many luminaries want to have a hand in making it. Planescape: Torment was highly acclaimed for the quality of its writing, the development of its setting, and richly textured characters. Tides of Numenera represents a rare chance to revisit the past, but also to improve on it.

For example, combat: Planescape: Torment's combat system is widley acknowledged as one of its weaker points. "At best," McComb says, combat was "a slog in PST". He says the team plans to address that by integrating combat more fully into the seam of the narrative. "Since we're using a different base system in Numenera's rules and have the liberty to craft something specifically designed for a cRPG, I anticipate that we'll have a combat system that will be far more entertaining," he promises.

Combat isn't the only thing that's getting overhauled in Torment. Character attributes will also be getting a change-up from the Dungeons & Dragons-based system of its predecessor. "We'll be seeing them, though not in the familiar AD&D Strength, Dexterity, etc combination," said McComb. "From the core systems of Numenera, we're looking at three pools: Might, Speed, and Intellect. We also have a Type (a character class, with a choice between the warrior-like glaive, the jack, and the wizard-like nano), a Descriptor (smart, fast, cunning, tough, etc.), and the Focus - a special ability that elevates your PC above the run-of-the-mill citizenry of the world. In addition, we'll have skills and other abilities under the hood (for instance, the Tides and Legacy system)."
[Add/Comments: 0] - [View Comments/Permalink] - [Top]

Origin Systems - How It Started
Posted: May 17, 2013, 8:30 pm by RPGWatch


A tweet from the Rampant Coyote led me to an article at The Digital Antiquarian about the birth of Origin Systems and Ultima III.

Everything about the young (literally; look at their picture above!) Origin Systems was bizarre, even by startup standards. They set up shop in Richard's personal playhouse, a space above the Garriott family's three-car garage which had once served as an art studio for his mother but had been commandeered by Richard and his friends years before for their D&D games. It was a big room scattered with desks, chairs, and even cots. Here Richard and his friends set up their various computers. A little cubbyhole at one end served as Robert's business office. Robert himself was still officially living in Massachusetts with his wife, who had quite a career of her own going as a manager at Bell Labs and thus couldn't move. Robert, however, was a pilot with a little Cessna at his disposal. He spent three weeks of each month in Houston, then flew back to spend the last with his wife in Massachusetts.

Together Chuck Bueche and Richard worked feverishly on the games that would become Origin Systems's first two products. Chuck's was an action game called Caverns of Callisto; Richard's was of course the big one upon which they were all depending to get Origin properly off the ground, Ultima III.

Given its flagship status, Garriott felt compelled to try to remedy some of the shortcomings of his earlier games. In particular, he was obviously eying the Wizardry series; for all of the Ultima series's stellar reviews and sales, the first two Wizardry games had garnered even better and more of both. Much of what's new in Ultima III is there in the name of addressing his series's real or perceived failings in comparison with Wizardry. Thus he replaced the single adventurer of the early games with a full party which the player must manage; added a new strategic combat screen to make fights more interesting; added a full magic system with 32 separate spells to cast to replace the simplistic system (which the player could easily and safely ignore entirely) of his previous games; added many new class and race options from which to build characters; made some effort to bring some Wizardry-style rigorousness to the loosy-goosy rules of play that marked his earlier games.
[Add/Comments: 0] - [View Comments/Permalink] - [Top]

Mage's Initiation - Post-Funding Update #25, May Update
Posted: May 17, 2013, 8:24 am by RPGWatch


In their latest update for Mage's Initiation more information is provided on the state of the development of the game.

First, we'll show off some eye candy with this new background from JP-the game's sure going to be imbued with some old school goodness in terms of visuals!

Image: http://www.himalayastudios.com/image...tbaseofmtn.png

And, some words from him regarding the background art front.

Background Art & Techniques

I've been working through a schedule to get a set number of backgrounds colored and edited weekly, and have a color-coded map that shows me which areas need to be redesigned and edited, as well as new locations that need to be conceptualized. I'm developing a master color palette for each location to streamline the process and most of all keep things consistent.

One of the critiques I heard during the Kickstarter was a concern about some of the background art being too blurry. In the past I was not fond of the pencil tool, as line work often turned out too jagged for my tastes, and I found adjusting the opacity settings for it to be tedious. The latest version of Photoshop (now CS6) in addition to having an incredible selection of texture and angle brushes, also has a much improved pressure sensitivity button for the pencil tool which enables me to sharpen and define the scenery in its native resolution. Many of the backgrounds were colored at a higher resolution and needed to be sized down, creating some discrepancies in the detail levels. I can now revisit other areas of the game with this tool to improve the detail level and create consistency across the entire game.

I'm hard at work on finalizing additional scenery for Mage's, such as the surrounding forest trails of Iginor, originally sketched out by the very talented Jeremy Kitchen. It is with great effort that I make these environments have both the familiar classic flavor reminiscent of the Spielburg Valley in Quest for Glory I VGA, but with a higher resolution, more updated twist. Above is one of the latest forest rooms in Mage's Initiation. I've made the lighting as dynamic as possible, complete with cast shadows. When D'arc will navigate the forest, his level of brightness will change when he moves under a tree and into the light.

Another area of the game I've been finalizing are rooms in the Priestess's Palace. I'm creating room objects for a labyrinth of sorts (no, not an endless, annoying, headache of a maze) where D'arc can now engage in combat with Amun-Cul's minions. To tell any more would spoil the fun!

If you have any thoughts or suggestions, feel free to post on the forums. I'm often swamped with art-related tasks, but I'll try to keep up with the postings there. Thanks again for all your support, and I look forward to providing you with future updates.

Now to turn the proverbial mic over to Morgan to discuss changes to the combat engine.
[Add/Comments: 0] - [View Comments/Permalink] - [Top]

System Shock 2 - On Difficulty: A Few Hours With System Shock 2
Posted: May 17, 2013, 8:24 am by RPGWatch


Rock, Paper, Shotgun has a new editorial of the first few hours of System Shock 2 from the perspective of a new player.

Shock 2 reveals just how potent and atmospheric it is to be pathetically weak. It creates a bleakness that's unachievable by just painting your backgrounds grey-brown and having the gruff post-apocalyptic super-soldiers shout curse words as they trot ever forward. It's a bleakness that's not superficially aesthetic, but intrinsic, and overwhelming. I really am overwhelmed by it. My heart is heavy when I think about carrying on playing this obviously excellent game, knowing what an ordeal I'll be putting myself through.

Where I'm left is divided on how I feel about that. Perhaps it's my frame of mind at the moment, perhaps I'm getting old, perhaps I'm growing weak. But that just doesn't strike me as the most appealing notion.

Yes, so jeer at me, condemn me, cancel your subscription and petition in the streets that I have the temerity to write about videogames. I deserve it. But I do want to stress that I'm not settling for the status quo.

System Shock 2, as incredibly difficult, incredibly intense, and incredibly unnerving as it is, has strongly reminded me of what I'm missing from games. Explained to me why I bounced off BioShock: Infinite like it was made of space-rubber. I don't want everything reduced down to a left or right mouse button, binary choices along predictable skill trees. I loved Dishonored, but Dishonored was a piece of piss. I was a GOD in that game, a GOD amongst puny underlings, crushed beneath my might. And that was probably the major thing wrong with it. Games just aren't difficult enough, are they? Sure, you can turn the "difficulty" up, but that just makes it harder to get stuff done - not actually harder. A difficulty level doesn't change the philosophy of a game. So no, I confess, SS2 is over a line for me that I once never had. But it's revealed a pathway I long to be walking down in more games. Just, maybe, not this one?

Except that I just went back and played a bunch more.
[Add/Comments: 0] - [View Comments/Permalink] - [Top]

Shadow of the Eternals - Three Video Updates
Posted: May 17, 2013, 8:24 am by RPGWatch


Since the crowd funding of Shadow of the Eternals Precursor Games has released three video updates.

Hi everyone,

I'm Shawn Jackson, the Chief Operating Officer at Precursor Games. I just wanted to give a little bit of background on myself for those who don't know me, as well as talk about bringing Shadow of the Eternals into production.
Ken McCulloch and Denis Dyack of Precursor Games reveal two new characters from Shadow of the Eternals. Paul Caporicci announces a future vlog in which Denis will address the infamous Kotaku article
Kevin Gordon, resident Art Chameleon of Precursor Games discusses Art creation, CryENGINE3 features and current system development in Shadow of The Eternals, as well as future system and visual goals.


[Add/Comments: 0] - [View Comments/Permalink] - [Top]

Check our recent news archives or the entire archives listing.

Supporting SP
Has Sorcerer's Place been useful? If you would like to show your appreciation for all our hard work on the site, and help us pay the bills the site generates every month, please see how you can help support SP. Thank you!